Let the kids come!
Even though it is important in the logistics of a family, the question is much more than just "what to do with the kids?". Not only can they come with us to the concert hall from now on (so you don't need to find a sitter to look after them or worry about what the older kids spend their time with on their own...), we can also enjoy several other advantages of the family-friendly programme of the Pannon Philharmonic. We will show you what makes it really valuable.
NOVELTY!
FOR CHILDREN BETWEEN 6 AND 18, SUBSCRIPTIONS FOR THE VARIOUS PANNON PHILHARMONIC CONCERTS IN MÜPA (BUDAPEST) AND IN THE KODÁLY CENTRE (PÉCS) ARE FREE-OF-CHARGE.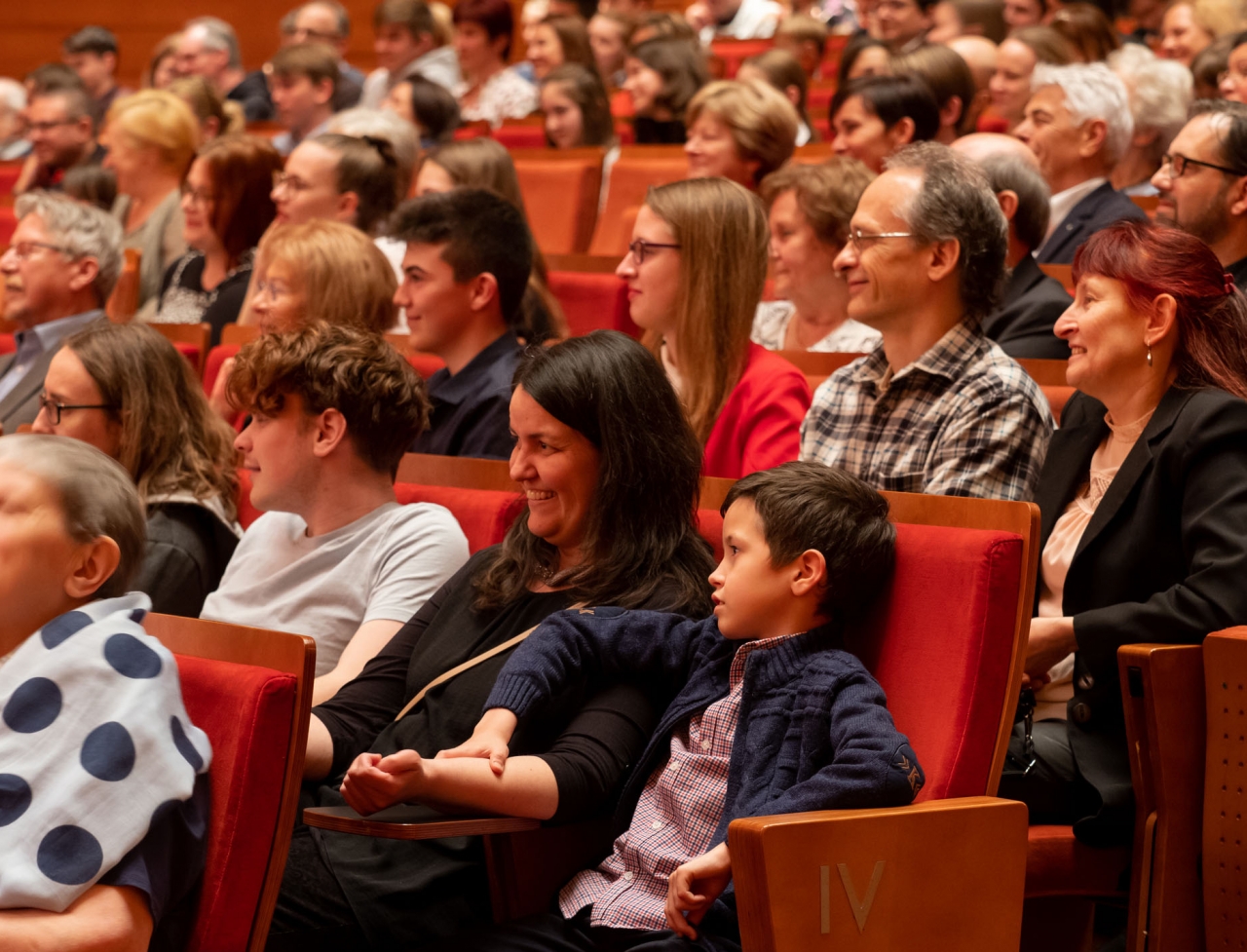 Why is it important, useful and, as far as we know, innovative?
First of all,
BECAUSE QUALITY TIME SPENT AND EXPERIENCES GAINED TOGETHER ARE TRULY VALUABLE.
because a memorable experience in childhood feelings are often evoked that we seek later and find in concerts.
because our series encompass well-known and lesser-known compositions of sublime composers interpreted by world-famous soloists.
because the kids can relish high-quality musical experiences
because they can become familiar with the sounds and emotional power of various instruments as well as various musical forms
because your children will learn how to prepare for certain cultural events and experiences in heart, dressing and behaviour.
because the whole family can experience something together that they can later talk and think about
because these shared experiences will be part of the collective language and memory of the family, reinforcing its unity.
because at the five nights in Budapest, the family can re-live the community-building and relaxing power of music
because it is not only us who are always in a hurry and feel drained sometimes, but also our children could well do with an evening of beauty, tranquillity and relaxation of this kind
BECAUSE YOU NEED A SLOW MOVEMENT IN THE CONCERTO OF LIFE …
Our new season REFRAIN with the Pannon Philharmonic
Free of charge children's subscriptions can be requested at the email address TATRAI.BLANKA@PFZ.HU in english.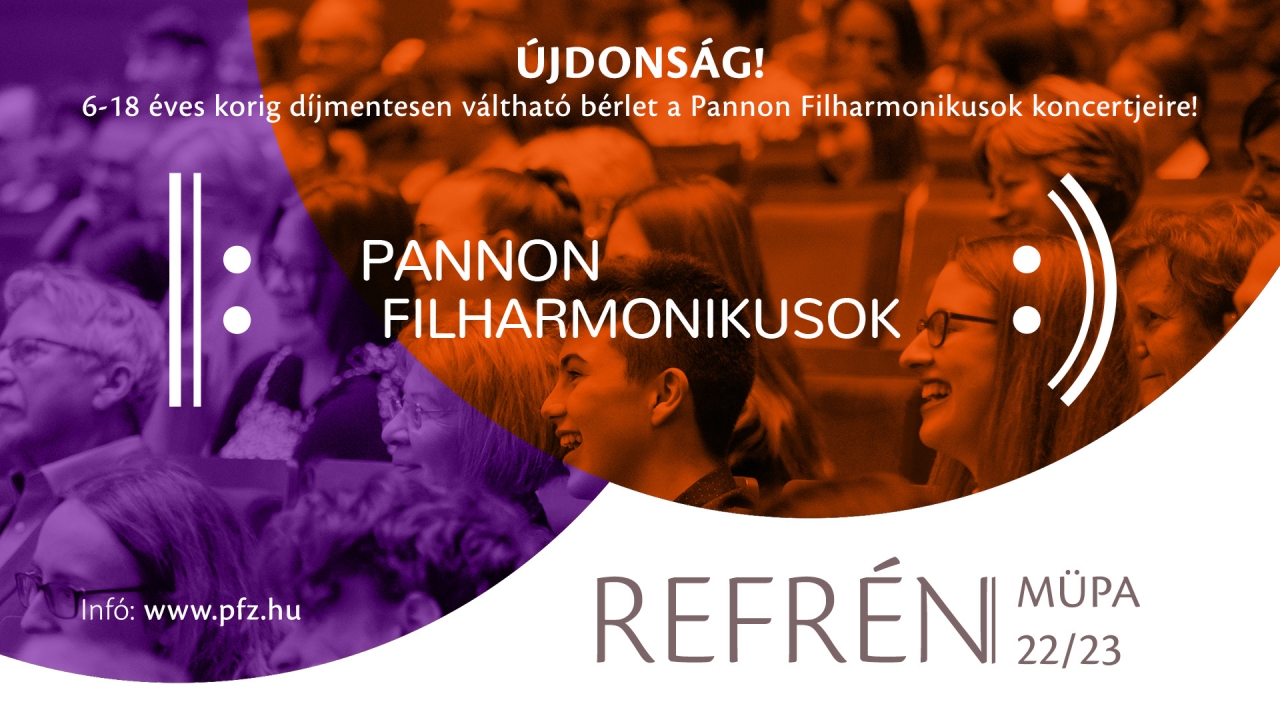 and what is our new season 'Refrain' like?
WE BELIEVE THAT PLAYING COOL IS DIFFERENT FROM PLAYING SOMETHING COOL
We believe that there is a difference between playing cool and hearing our orchestra playing something really cool. Neither is it the same if we cherry-pick random concerts or subscribe consciously for a Pannon Philharmonic series. Our ensemble working committedly and with great enthusiasm for nearly a decade with chief conductor Tibor Bogányi is certain that we definitely need high-quality live music, which should return to our lives as a familiar and eagerly awaited refrain. It ought to smile at us as the unique repeat sign in the new season's logo.
The 210-year-old Pannon Philharmonic has been present in Budapest since Müpa opened its doors. The orchestra has proved itself, attracting the audience with its successful subscription series from season to season. As the refrain returns in songs and poems, we also return with our music into the lives of our audience.
Let's see what treasures the Pannon Series of the 2022/23 season 'Refrain' has in store for you in Budapest. It is no question that the subscription series of our ensemble, known for its high standards, have a scope, a message and a musical programme; they are much more than just a few randomly juxtaposed concerts. Through the compositions, they convey a message of man's love for the beauty of existence, perseverance and respect for life. Perhaps, it goes without saying how much we need them... All of our concerts mean a new encounter full of excitement but also a reunion with a reliable, old friend, who always smiles at us, just like the repeat sing in the logo of the new season.
Musical novelties, rarities and evergreen classical melodies
The new season welcomes us with Enchanté, and the concert titles From Pure Source Only, Blooming in Heart, The Rite of the Spring and The Triumph of Life speak for themselves. The high artistic standards of the orchestra are complemented by the uncompromising musical sovereignty of the ensemble's chief conductor Tibor Bogányi and the returning guest conductors, Peter Eötvös and Gilbert Varga. The programmes of the Budapest concerts range from the Classical Period to Romanticism, Late Romanticism, the music of the 20th century and the contemporaries. Each concert has some surprises in store for the audience but also brings in familiar tunes. Such international stars will feature in the new season as the violinist Alissa Margulis, the cellist Sung-Won Yang, the violist Antoine Tamestit, the soprano Lena Belkina and the conductor Andrei Yurkevich.
By CLICKING HERE, you can read more on the PANNON SERIES budapest and Pannonicum-, Kodály-, Musica Sacra series in pécs.
SUBSCRIPTIONS FOR THE PANNON SERIES CAN BE RENEWED UNTIL 30 JUNE 2022; NEW SUBSCRIPTIONS CAN BE PURCHASED UNTIL 30 SEPTEMBER 2022 EITHER IN PERSON IN MÜPA OR ONLINE ON JEGYMESTER.HU.
subscription renewal in pécs from 20 may until 20 july 2022.
KODÁLY Series 8+1 concerts: for whom music is a mother-tongue
PANNONICUM Series 5+1 concerts: for whom music is the icing on the cake
MUSICA SACRA Series 3 concerts: for whom music is festivity and hope
Back
Ticket Office of Kodály Centre
7622 Pécs,
Breuer Marcell sétány 4.
Special closing days HERE.

Opening hours:
From Monday to Friday:
10 AM – 6 PM
Telephone inquiries can be made via 72 / 500-300 from Monday to Saturday from 10 AM to 6 PM
The Headquarters and Rehearsal Room of the Pannon Philharmonic
7622 Pécs,
Breuer Marcell sétány 4.
Public relations
Ms. Blanka Tatrai
sales representative
tatrai.blanka@pfz.hu
Press relations
Ms. Csilla Szabó
communications manager
press@pfz.hu
Tel.: +36 30 222 7992